Cloud optimized SoC to enable low power AECs
Raon is a 4-Lane Uni-Directional CDR with complete reference design for 400Gbps AECs, with 25G NRZ and 56G PAM-4 per lane, up to 25dB channel loss compensation, while having ultra low power consumption.
Raon is a fully integrated single chip, 4-channel uni-directional CDR/Re-timer. Each lane supports 28G NRZ or 56G PAM-4 transmission, over a variety of media including optics, passive copper cables and backplanes. The device is optimized for Ethernet applications which are compliant with OIF CEI-56G-VSR and CEI-56G-MR specifications. Thanks to a fully optimized solution in CMOS technology, the power consumption is extremely low when compared to others. The device has built-in programmable and autonomous adaptive equalization in the receiver that compensates for transmission line losses and inter-symbol interference.
Features
Designed for the 25G/50G/100G/200G and the next generation 400G small form factor modules (SFP/CFP2/CFP4/QSFP)
Supports 25G-to-28G NRZ mode and 50G-to-56G in PAM4 mode to cover various standards (802.3bs, 802.3cd, OTU4, OTU5)
Power Efficiency of 4.5 mW/Gbps at typical case
Serializer (TX) has FIR with programmable level and pre-emphasis
De-serializer (RX) has CTLE, FFE, and DFE with programmable coefficients
Adaptive TX and RX co-equalization to cover up to 25 dB lossy channel
Programmable TX output swing up to 1.2V_PPD
Built-in self-test, Eye open monitor (EOM)
PRBS pattern generator/checker, Polarity (P/N) inversion
Embedded CPU with customized firmware
Independant LOS/LOL per lane
Standard I2C Interface
Operating IC temperature: -40°C to +105°C
FCCSP-121 package, 5mm x 5mm, 0.4mm pitch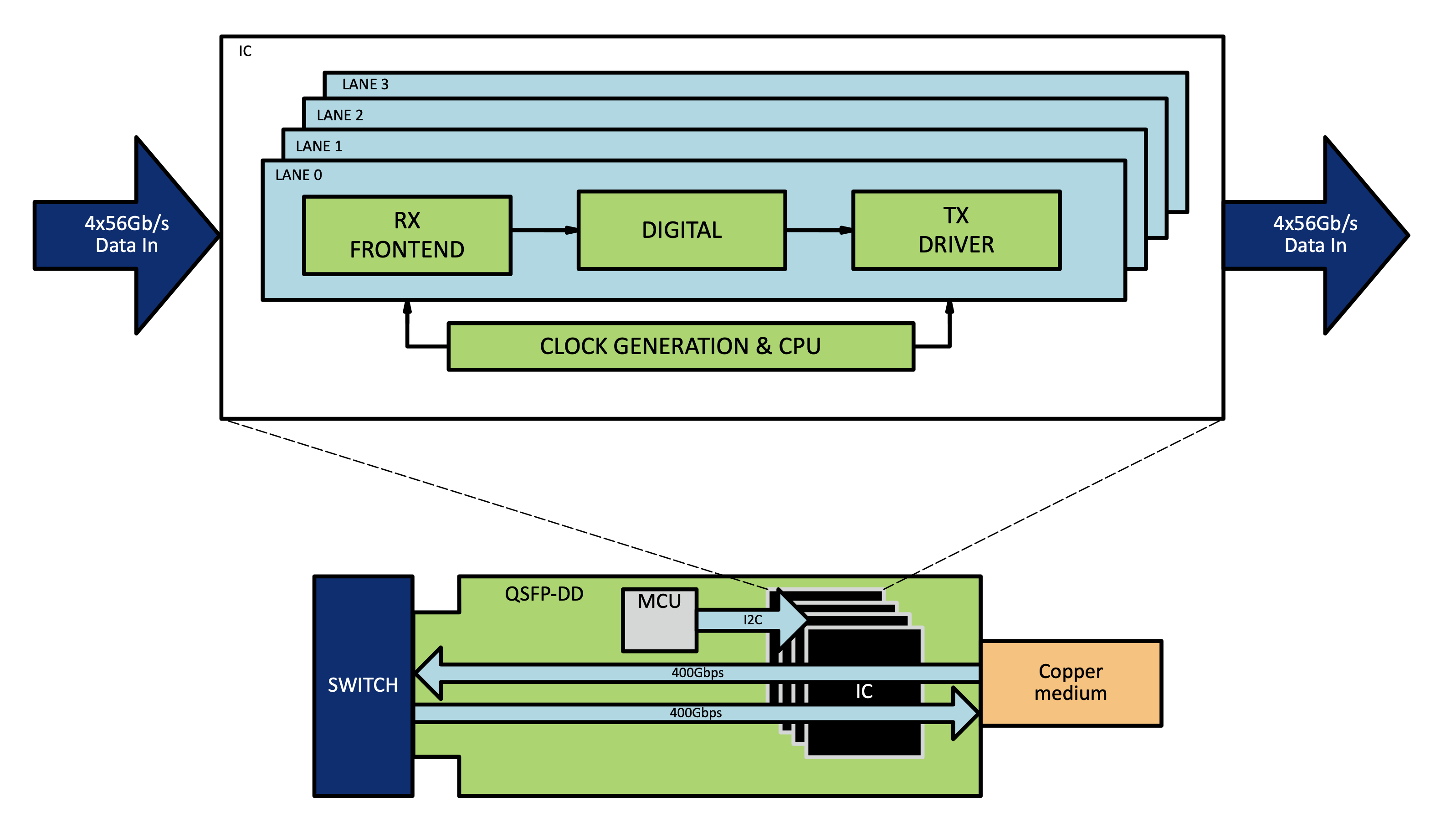 We Offer Network Solutions for All Distances